Are you green with envy?
Congratulations!
Envy is a feeling that we try to avoid, to repress. We all deny envying anybody. Me? Envy? Never!
But, you know that's not true. You have felt envy at some point in you life. I know I had and honestly I still do.
Envy is a call from your soul. It's your soul shouting at you for attention. It's indeed giving you a message.
Dare to listen?
Please do let me know here below, what you think. How does this apply to you? What lessons have you learned from envy? Who do you envy? Have you said "thank you" to them?
And of course, please do share the love! If you feel that this content could be instrumental for the success and happiness of a friend or family member, by all means, do share it! Share it! We all deserve a happier life.
To your brilliance,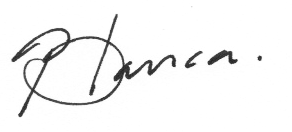 Tweetable quotes
Envy is a call from your soul. Dare to listen? – @BlancaVergara
People you envy are your chosen spiritual guides – @BlancaVergara
Envy is here to teach you something important – @BlancaVergara
Connect with the pain of envy and as kit what are you here to teach me? – @BlancaVergara
The person who you are envying is marking the path of where you need to go next – @BlancaVergara
Envy can be transformed into clarity of action and love – @BlancaVergara
That one day is today – @BlancaVergara