How to deal with haters?
First we need to recognize that haters are messengers. They are here to tell us that we are becoming more and more ourselves. You know, when your light is shinning brighter ant brighter, you'll attract many opinions and some of them will be certainly loaded with negative feelings. It's important to remember that their opinion says more about them than about you. Their envy is challenging them to step up to a higher level in their lives. Don't forget, that's THEIR homework. Your responsibility is to continue on your path towards your soul calling AND bless those critics. Don't worry! They are safe. They are in their spiritual journey. You are just a sign in their journey.
NOW
What if you don't have haters? people talking about you? people talking bad about you?
Well, then you are in serious trouble. Then you are not truly raising to the challenge of listening to your soul calling and acting accordingly. You are pleasing way too much. You have to dare much more. You have to dare to do what you are called to do. You have to dare to be bold, to be courageous, to be YOU. You need to dare to desire criticism, rejection, ridicule… Learn to love them.
Learn to be remarkable. Learn to be extraordinary, exceptional, amazing, astonishing, astounding, marvelous, wonderful, sensational, stunning, incredible, unbelievable, miraculous, phenomenal, prodigious!
Dare! Dare to be YOU!
Please do let me know here below, what you think. How does this apply to you? What lessons have you learned from envy? Who do you envy? Have you said "thank you" to them?
And of course, please do share the love! If you feel that this content could be instrumental for the success and happiness of a friend or family member, by all means, do share it! Share it! We all deserve a happier life.
To your brilliance,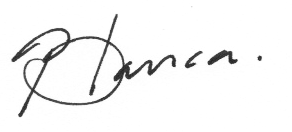 Tweetable quotes
Do they talk about you? Great! You occupy their mind Do they talk bad about you? Even better, they envy you – @BlancaVergara
Do they envy you? Congratulations! What you are doing is great! – @BlancaVergara
No one is criticizing you? You are not filling up your shoes – @BlancaVergara
Be bold. Be brave. – @BlancaVergara