We are spoiled for choice these days. It's impossible not to analyze the possibilities. It is very easy to fall prey to analysis paralysis. We constantly weight this possibility against this other possibility. We so want to get it right. We want to ensure your happiness, our success, our relationships with dear ones…
This becomes a very noisy undertaking. We got just way too much noise around us to listen to our heart and soul.
Today I share with you a practice that created massive clarity when I was at a very confusing fork in the road. This practice is so powerful that I have made a habit from it – not because it's easy, but because it's effective.
Now back to you!
I would love to hear how you create clarity in moments of analysis paralysis. Share with our community your wisdom. We are all here to support our journey. Add a comment below with your ideas and experience. The community and I will be very grateful.
Share this content with your friends and family. Anyone who is at a fork in the road can benefit from this decision making exercise.
To your brilliance,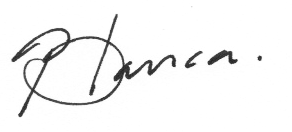 Tweetable quotes
Train your discernment by identifying what you don't want in your life
If you are in a fork on the road, start clearing your life of distractions
Unpack your bags, travel lighter
Clear up. Space will welcome what you want in your life
Say no. Get clarity and power