How to prioritize
To prioritize is a great modern challenge. We have so many things to do. Especially now after coming back from enjoying a gorgeous summer break.
Which one of our to do's should be done first? Which one shouldn't be done at all?
Today I offer you the framework at use to keep my life on track every single day.
If you enjoy these ideas, feel free to share them with your friends, family and colleagues. We want more people leading lives of meaning and joy.
I would also love to hear from you. How do you prioritize? What questions do you ask yourself every morning to plan your day? What questions do you ask yourself when you are getting out of track during the day? Share your wisdom with the community by answering these questions in the comments below.
To your brilliance,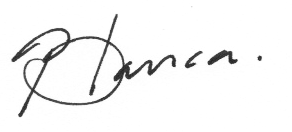 Tweetable quotes
Take the leadership of your own life. Set your own priorities @BlancaVergara
To prioritize your need a framework, a vision of your life. @BlancaVergara
To prioritize you need to reconnect daily with your lifelong dream @BlancaVergara
How would you like to see your life in the future? @BlancaVergara
Embrace all your contradictions. @BlancaVergara
What is your annual objective? @BlancaVergara
Set your learning agenda and grow. @BlancaVergara
Set objectives that invite you to stretch. @BlancaVergara
Set quarterly objectives. You'll live in alignment with the universe @BlancaVergara
Design every day like a symphony. @BlancaVergara